About
SolitaireCG is an adaptation of Ken Magic's "Solitaire" for devices with few hardware buttons.
SolitaireCG stands for Solitaire Card Games and is a software application for Android™.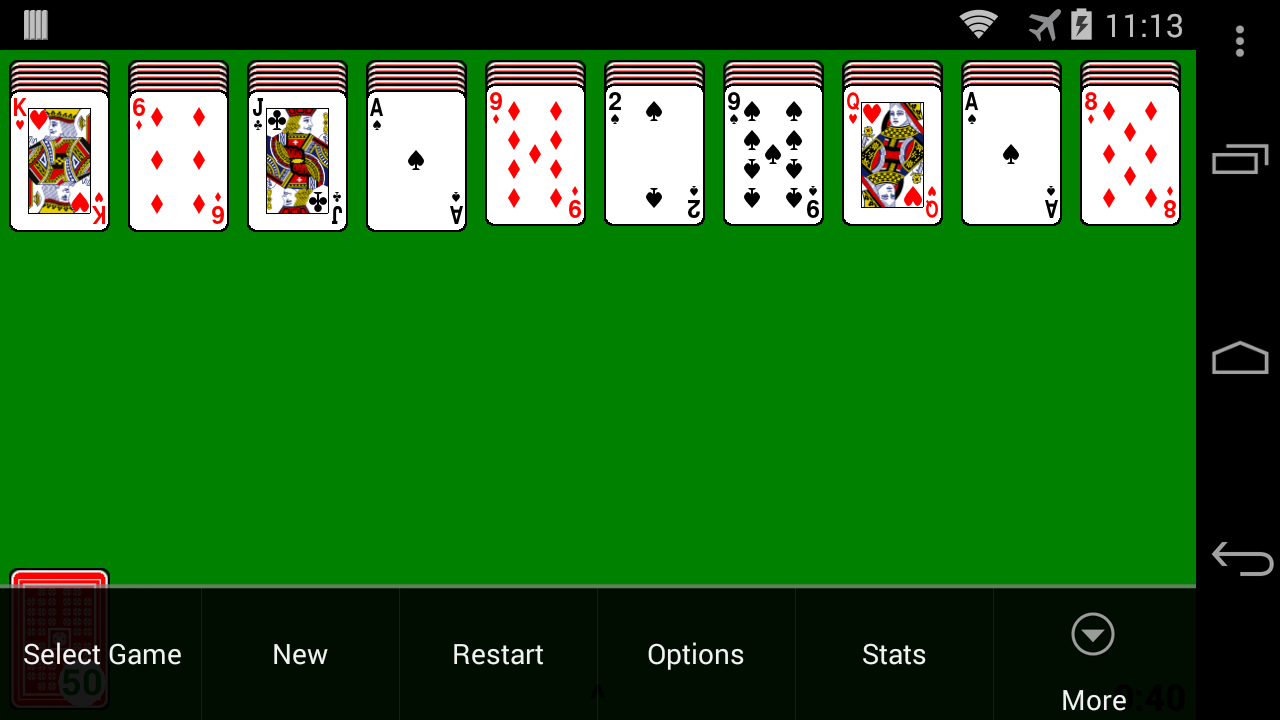 SolitaireCG includes the following card games:
Forty Thieves
Freecell - build by alterate color


Baker's Game - build by suit

Golf - no build on king, wrap cards

Klondike (regular solitaire) - unlimited passes through deck, deal 3 or 1 card


Vegas Solitaire - one pass through deck, deal 1 or 3 cards

Spider - four suits


Tarantula - two suits
Black Widow - one suit

TriPeaks - no build on king, wrap cards

Features include multi-level undo, animated card movement, statistics/score tracking, and large card art option.
Changes against the original Ken Magic solitaire-for-android include:
Enable spider dealing with visible card deck
Add hi-res graphics, portrait mode, and tablet support
Add Baker's Game, Golf, and TriPeaks solitaire games
Add long press on bottom center of screen to invoke alternate menu
Add language translations: Esperanto, Finnish, German, Polish
Add card count and foundation first card visual indicators
Avoid card loss if spider deal interrupted
Prevent illegal N+1 multi-card drop on empty stack in Forty Thieves
Fix Freecell logic for single step move of a valid card sequence
Add game rules, terminology, README and COPYING to help
Replace application icon

The changes fix bugs, add games and portrait mode, and enable card dealing and playability in spider. New hi-res graphics have been added to the original card graphics to take advantage of today's larger, higher resolution screens.

Source code available under Apache license 2.0, see git repository.
Download
Android is a trademark of Google Inc.
Google Play is a trademark of Google Inc.